Retriever Lodge Expandable Kennel, 10 ft. L x 5 ft. W x 6 ft. H
Keep your animals safe with the Retriever Lodge Kennel. This impressive kennel delivers the highest quality, versatility and innovation of any kennel on the market. Designed with safety and security in mind, the Retriever Lodge Kennel does it all. It's made from high quality tubular steel with welded wire panels so you know it will last. If that's not enough, it also looks fantastic.
Rust resistant powder coated finish
Assembles in minutes with heavy-duty clamps
Includes everything you need to build a 5 ft. x 10 ft. kennel (accessories not included and sold separately)
Expandable into a 10 ft. x 10 ft. kennel with the Retriever 2-Panel Expansion Pack (sold separately)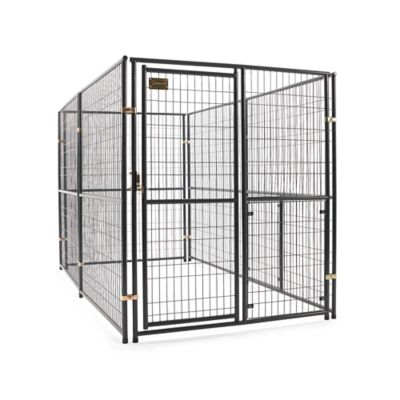 Retriever 6 ft. x 5 ft. x 10 ft. Lodge Exp…
Retriever 6 ft. x 5 ft. x 10 ft. Lodge Expandable Welded Wire Dog Kennel [More]
*This product is an affiliate link that will send you to a different site to order. Pricing may be different on the product's purchase page.